See if You Qualify For Compensation
If You Have Cancer and Have Taken the Heartburn Medication Zantac, You May be Entitled to Significant Compensation
• The FDA has issued a recall on Zantac because it was found to contain high levels of the probable human carcinogen Nitrosodimethylamine (NDMA)




• The makers of Zantac failed to notify the public of this chemical in their product, choosing to gain profit rather than keep consumers safe


By clicking 'See if I Qualify' and submitting my request, I confirm that I have read and agree to the privacy policy of this site and that I consent to receive emails, phone calls and/or text message offers and communications at any telephone number or email address provided by me, including my wireless number, if provided. I understand there may be a charge by my wireless carrier for such communications. I understand these communications may be generated using an autodialer and may contain pre-recorded messages and that consent is not required to utilize the services. I understand that this authorization overrides any previous registrations on a federal or state Do Not Call registry. Accurate information is required for a free evaluation.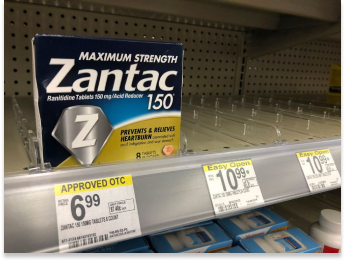 FDA Removes Zantac From Shelves Over Probable Human Carcinogen NDMA
In April of 2020, the FDA determined that Zantac posed a risk to public health due to high amounts of the chemical NDMA. NDMA is a chemical used to make rocket fuel, as well as purposely induce cancer in lab animals for medical studies. NDMA is considered a probable human carcinogen by both the World Health Organization (WHO), and the U.S. Environmental Protection Agency (EPA).
The FDA permits a daily intake of 96 nanograms of NDMA, but testing revealed each tablet contained over 3,000,000 nanograms. That's 3,000 times greater than the FDA's intake limit.


The makers of Zantac have made billions from the drug, and had information that Zantac contained NDMA as early as 1981. They failed to warn consumers, doctors, or government regulators of the risk, and chose to gain profit rather than keep consumers safe.
Types of Cancers Linked to Zantac
Currently these are the known cancers associated with Zantac:
• Bladder Cancer

• Brain Cancer

• Colorectal Cancer




• Esophageal Cancer

• Kidney (Renal) Cancer




• Liver Cancer

• Pancreatic Cancer

• Prostate Cancer
If you or a loved one has one of these types of cancer, and used Zantac, contact us today to see if you're eligible for significant compensation.
Attorney Advertising Disclaimer: The information you obtain at this site is not, nor is it intended to be, legal advice. You should consult an attorney for advice regarding your individual situation. We invite you to contact us and welcome your calls, letters and electronic mail. Contacting us does not create an attorney-client relationship. Please do not send any confidential information to us until such time as an attorney-client relationship has been established. Prior results do not guarantee a similar outcome.